Ford continues its dominance of the road-ready sports car with the 2017 Ford Mustang. The iconic Mustang has been a consumer favorite since the 1960s, and will continue to enchant owners interested in owning a piece of Ford history. Think classic American muscle car blended with current technology, and you have the 2017 Ford Mustang.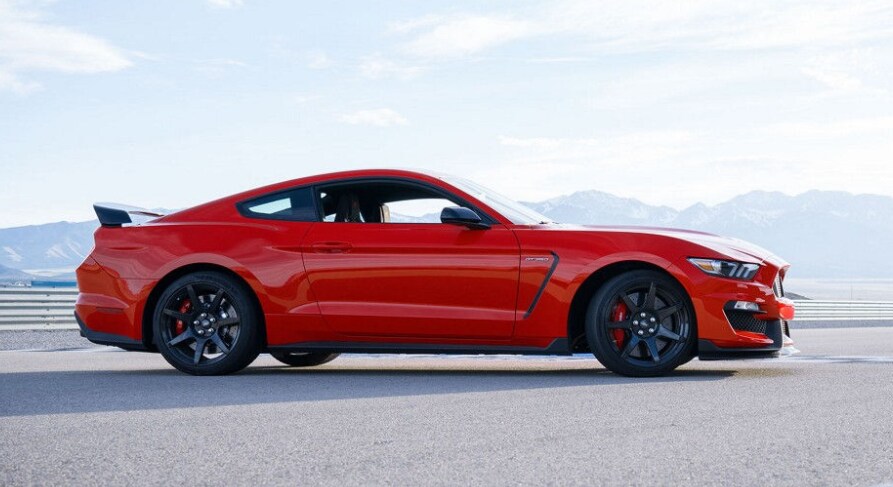 Ford offers a plethora of model trims to satisfy owners of all ages —
Fastback Trims
V6 Ecoboost®
Ecoboost® Premium
GT
GT Premium
Convertible Trims
V6
Ecoboost® Premium
GT Premium
Shelby GT Trims
GT350
GT350R
The Mustang line uses one of four engines to provide hair-raising performance:
The 3.7 liter V6 delivers 300 hp and 280 lb-ft of torque on the V6 trims
The 2.3 liter Ecoboost® offer up 310hp and 320 lb-ft of torque
The 5.0 liter V8 provides 435 hp and 400 lb-ft or torque on the GT trims
The 5.2 liter V8 kicks up 526 hp and 429 lb-ft of torque, standard on the Shelby GT350
The big news for 2017 is the reintroduction of the Shelby GT500. Ford's designers and engineers have put together an adrenaline rush in the GT500. The 5.2 liter V8 uses a flat-plane crank and precision engineering to offer you the most powerful naturally aspirated Ford engine ever. All that power needs good brakes, and Ford does that with multi-piston Brembo™ calipers and SWH® multi piece cross-drilled and vented rotors front and back to give you stopping power designed for track standards. The TREMEC® six-speed automatic transmission is kept at optimum temperature with its own cooler. Handling is improved with MagnaRide™ damping that monitors and adjusts thousands of times per second. A rear spoiler provides downforce to keep the Mustang firmly planted on the road. A rear diffuser adds additional down forces while providing cooling air to the rear differential.
If you are ready to move up to a street-legal sports car with incredible performance and good fuel efficiency, and extend the legacy of the legendary Mustang badge, come to Stevens 112 Ford and check out the 2017 Ford Mustangs. There is a trim waiting for you at Stevens 112 Ford in Patchogue.