To assist law enforcement using the Police Interceptor Utility, Ford has developed a "no profile" light bar which is virtually invisible when not in operation. The light bar provides maximum visibility through the windshield and also eliminates an exterior light bar to aid in apprehension without being an obvious law enforcement vehicle.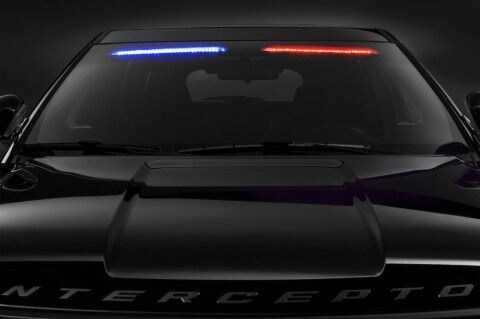 This new factory-installed stealth light bar will allow law enforcement to follow lawbreakers in unmarked vehicles. It also eliminates aftermarket interior light bars which are typically larger, bulky, and can obstruct forward vision for the law enforcement driver. The new Ford light bar is integrated into the headliner where it meets the front windshield, thereby eliminating obstructions to visibility while remaining very effective when activated by the driver. When ordered at the factory,
Ford
also replaces the dark shade band at the top of the windshield with clear glass, helping to make the light bar more visible.
Ford offers a limited warranty with every factory-installed light bar. The bar comes with a number of programmable features including:
normal flashing alternating blue and red lights
available red/red or blue/blue flashing mode
bright-white "take down" or "scene" capability for maximum forward visibility
capable of meeting California Title 13 regulations
programmable from full intensity to 20 percent brightness
The new interior visor light bar is available for order on 2017 Ford Police Interceptor Utility vehicles. Contact us at Stevens 112 Ford if your law enforcement agency is interested in obtaining more information about this new feature.