When it's time to leave the beaten path and explore regions unknown, you need a vehicle that can be relied on to take you through. Ford, the manufacturer known for its tough, rugged construction and ceaseless innovation, has unveiled the all-new 2018 Expedition FX4.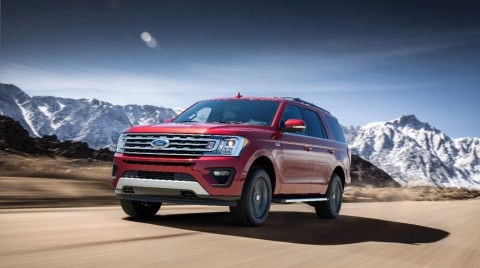 Unparalleled in its ability to tackle off-road terrain, the Expedition FX4 features a new Terrain Management System that enables the driver to select the mode that best suits their circumstances. This system uses a series of adjustments and equipment, including off-road-tuned shocks and an electronic limited-slip rear differential, to optimize driving in uncertain environmental conditions such as mud or sand. With Ford's revolutionary technology at your side, there is no territory you cannot conquer.
In addition to its potent off-road capabilities, the new 2018 Expedition FX4 features generous space and technology upgrades. With seating for up to eight people and a wide cargo area for their belongings, the Expedition comfortably hauls a medium-sized group and their gear. Revolutionary media and connectivity features inside the cabin ensure those passengers remain properly entertained during their voyage.
All of these features rest atop a rugged high-strength aluminum-alloy body, ensuring that the 2018 Expedition can handle the rigors of uneven terrain and unsure territory. At the heart of the Expedition FX4 is a powerful 3.5-liter EcoBoost engine that is capable of pumping out 375 horsepower and a wrenching 470 lb.-ft of torque. With an all-new 10-speed automatic transmission, the 2018 Expedition can tow up to 9,300 pounds of additional material.
Powerful. Comfortable. Capable. The all-new 2018 Ford Expedition FX4 tackles it all.
If you would like to view an Expedition for yourself, or any of Ford's other fine options, we invite you to visit our showroom at 507 Route 112 in Patchogue. We're Stevens 112 and it would be our pleasure to serve you.